We're seeing more and more adult orthodontic patients these days, and it's not hard to figure out why. Appliances that are barely noticeable have been developed to give adults more discreet choices when it comes to orthodontic treatment. Many adults realize that investing in a smile makeover from the Best Orthodontic Treatment in Miami can have significant benefits, socially and professionally. Having straight teeth can be an important part of that confidence-boosting makeover process.
Healthy teeth can be moved at any age, so there's no such thing as being "too old" for braces. However, orthodontic treatment for adults is different in two important aspects: First, the growth and development of the jaw are complete in adults, so changes in the actual jaw structure can't be accomplished with orthodontic appliances in the way they can with a developing child.
Secondly, periodontal (gum) disease is more prevalent in adults than in children. While you are wearing orthodontic appliances, gentle forces will be applied to your teeth, so they can move through their surrounding bone. Periodontal health plays a key role in all of this; if the gum tissues are not healthy during orthodontic treatment, bone loss can result and weaken the long-term prognosis of your teeth. Therefore, any gum disease must be brought under control before orthodontic treatment begins. In order to maintain your periodontal health, you will need to make sure to have regular professional cleaning during the course of your orthodontic treatment while maintaining good oral hygiene at home.
Types of Orthodontic Appliances
All orthodontic appliances work essentially the same way: by employing light, constant force to move teeth into proper alignment. However, the way we apply these forces can vary, as numerous innovations have become available in recent years. Some of the most recent, less visible orthodontic appliances have been designed to blend more easily into an adult's personal and professional lifestyle. Types of orthodontic appliances include:
Types of orthodontic appliances include:
Traditional Metal Braces —This is probably what you think of when you picture someone wearing braces: small metal brackets bonded to the front of the teeth. A thin wire runs through the brackets and is attached on either end to metal bands that go around the back molar.
Clear Braces — Instead of highly noticeable metal brackets, you can have clear ones made of ceramic, plastic or a combination of both. They are hardly visible, except for the thin wire running through, but they are more susceptible to breakage than metal braces.
Clear Aligners – Invisalign — As an alternative to the fixed type of orthodontic appliances mentioned above, clear aligners are removable. They are a series of clear plastic "trays" that fit over your teeth exactly. Each tray is part of a series of trays that move your teeth a little bit at a time until they are in the proper position. Your trays are designed with the help of specialized computer software that generates a virtual model of your bite.
Lingual Braces —These metal braces are bonded to the back of your teeth (tongue side) so that it is not visible to the public eye. That is the plus side. On the minus side, they can be more difficult to get used to wearing and are more expensive than traditional braces.
Invisalign® straightens your teeth without wires and brackets, using a series of clear, customized, removable appliances called aligners. It's virtually undetectable, which means hardly anyone will know that you're straightening your teeth.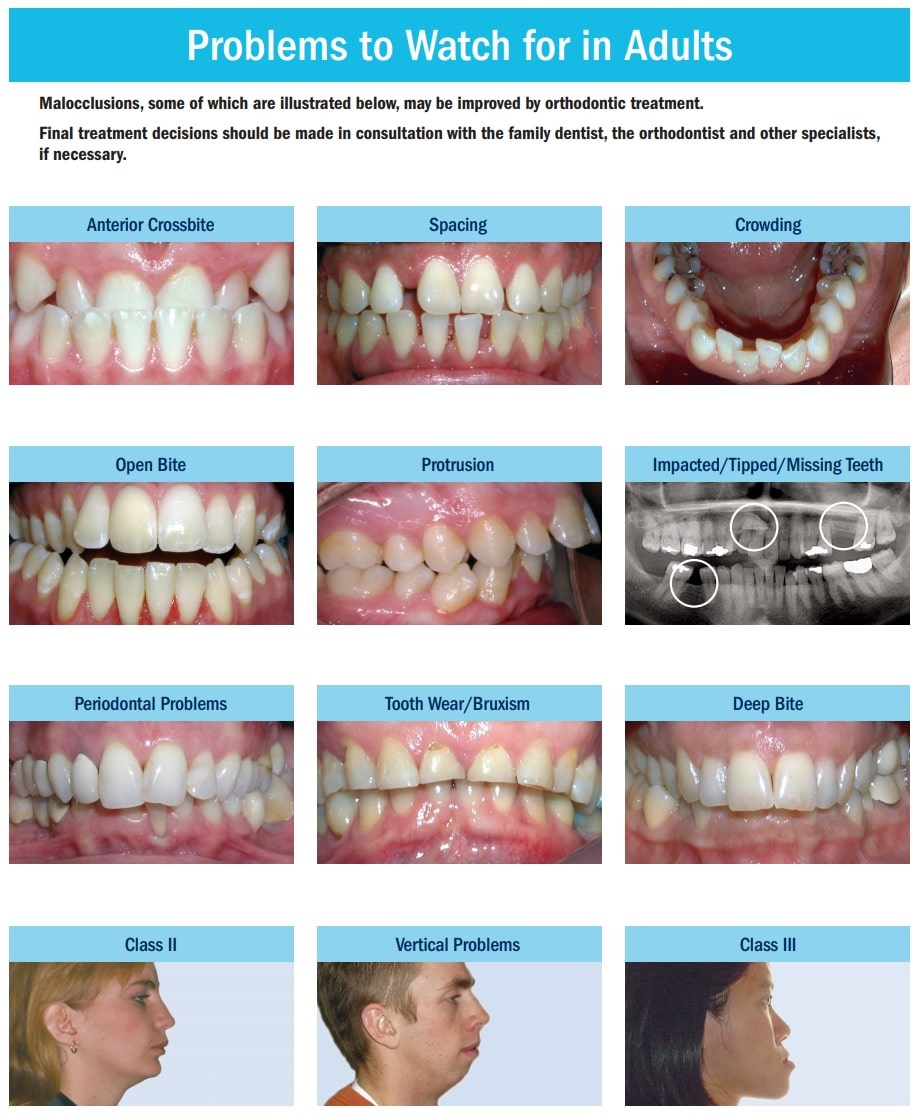 COMMON REASONS WHY ADULTS CONSIDER ORTHODONTIC TREATMENT and want to have the Best Orthodontic Treatment in Miami
A bad bite or malocclusion, causing teeth to fit together incorrectly
Teeth are crowded or spaced apart, possibly causing tooth decay or gum disease
Abnormal jaw pain, or pressure that is caused by crooked teeth
Grinding or headaches caused by dislocated jaw joints
Desire for a healthier mouth and a more confident smile
THE DIFFERENCE BETWEEN ADULT ORTHODONTICS AND ORTHODONTICS FOR CHILDREN AND TEENS
The main difference to remember when treating adults or children and teens from best orthodontic treatment in Miami is that in younger patients the jawbones are still developing. For adults, these bones have stopped growing, so treatment can take a bit longer and involve possible compromises. Other differences include:
Gum or bone loss (periodontal disease) –Adults are more likely than children to experience gum recession or even bone loss due to gingivitis or advanced periodontal disease. Patients with straighter teeth are less likely to get gum disease or helps with slowing its progression.
Worn or missing teeth – Over time teeth can become worn down and shift into different positions that can only be corrected with orthodontic care. Missing teeth can cause other teeth to shift and tilt. We can work with your dentist to accommodate treatment that may include making appropriate space for dental implants or other dental restorations.
We recognize that adults and children have different needs and require a different level of attention and care. We will work with you to ensure that you receive the most appropriate treatment, and that your needs are always met with understanding and respect.
Worried about the cost of Braces? We Can Help!
We understand that orthodontic treatment is a big investment in you or your child's life. That's why we work to make financing easy, straightforward, and affordable for everyone who walks through our doors. We offer adjustable, customized payment plans. Using our Orthodontic Treatment Cost Calculator you can estimate the down payment and monthly payment that will work for you and build an interest-free plan to fit your family's needs!