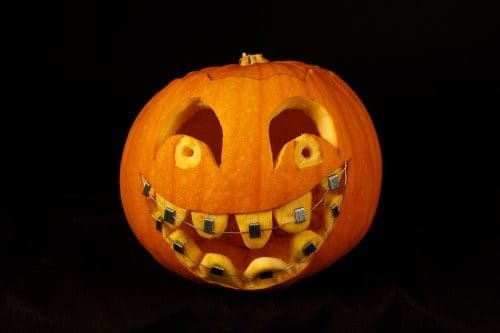 October is National Orthodontic Health Month!
Have a Braces-Friendly Halloween
Enjoy Halloween while keeping your braces safe. Halloween is a hoot for kids, teens, and everyone in between. If it is your first year enjoying the holiday with braces, you may worry that all the ghostly fun may be ruined by trying to keep your braces safe. However, this couldn't be farther from the truth! It is easy to enjoy Halloween during your orthodontic treatment if you follow a few guidelines to keep your braces damage- free!
Prevent sticky situations this Halloween, stay away from candy such as taffy or licorice that will cling to your braces and create a ghastly sight. Hard candies or nuts may haunt you later if they break a bracket or bend a wire and land you in the orthodontic chair the next day. Chewy candies may be a treat that turns into a trick when they get stuck in your braces and take all night to clean. Bubblegum can slowly turn into a nightmare when it transforms into an unwanted spider web that is strung from bracket to bracket.
Luckily, Halloween doesn't have to be doomed to a night full of saying no to treats. Many goodies will make both your taste buds and braces happy.
Braces-Friendly Halloween Sweets:
Chocolate Bars Without Nuts or Caramel
Jell-O
Ice Cream
Peanut Butter Cups
Apple Cider
Cookies, Donuts, Cake
Gummy Candy
Enjoy treats in moderation and ensure that you stay up on your brushing and flossing during this spooky season. Even braces-friendly treats can get caught in brackets, which may create a ghoulish smile. While this might make your costume look scarier, it also causes unwanted plaque buildup. Give your teeth and braces some extra love during this time of year and brush your teeth about a half-hour after you indulge in a sweet treat.
Leftover Goodies? Donate them!
After a packed night of trick or treating, you may find a variety of candy that is bad for your braces in your loot. Luckily, this candy doesn't have to go to waste; share the Halloween joy with others! While you may be able to swap out some candies with your trick-or-treating pals you will probably still find yourself with candies leftover that your braces would say "boo" to. Multiple organizations will accept unopened candy donations and distribute them to troops overseas, children in hospitals, and other charitable causes.
Your braces don't have to stop you from partaking in all the spooky fun this 31st! Eat your favorite soft treats and share your non-braces-friendly candies with others. All your favorite chewy, sticky, and hard candies will be there for you when your braces come off!